INFINITI Winter Car Maintenance | Naperville, IL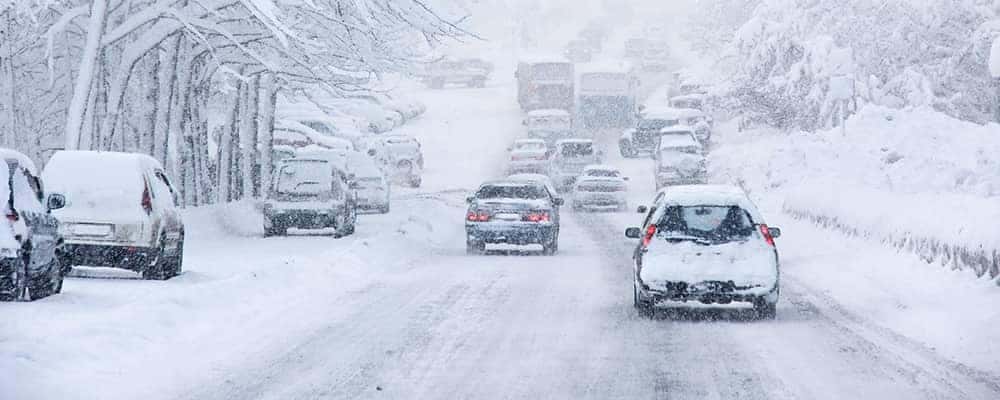 Learning how to prepare your car for winter in Aurora and Lisle can make all the difference in your car's condition. While road salt and freezing temperatures can leave your vehicle vulnerable to damage, the right winter car maintenance will keep your car in top condition all season long. What winter car care do you need to schedule before the snow begins to fall in Plainfield? Let's find out:
Exterior Protection
If you want your car to stay gorgeous throughout the year, it's important to tend to your winter car care. That's because winter is a tough time for your car's paint. Road salt can wear holes through your finish, and snow and ice can speed up corrosion under those paint chips. Be sure to wax your car in late fall or early winter as a layer of extra protection. Once winter is in full swing, be sure to wash your car regularly to remove road salt and debris.
Tire Inspection
Slick roads and icy driveways can really throw you for a loop in the winter, so you need to make sure that your tires are in good condition. Take the air pressure of every tire, including the spare, and be sure to inflate each one to the proper levels. Check the tread of your tires to ensure that you can achieve proper traction. If your tread is low, it's time to pick up a replacement. Why not look into a set of winter tires? Winter tires have deeper tread and flexible rubber that grips the roads easily, so you can drive with confidence through any forecast.
Visibility Boosters
Finally, what about your visibility? Cold temperatures can freeze your windshield fluid and stop your wipers in their tracks. That's why we recommend winterizing your vehicle to improve your visibility. Clean off your headlights and taillights and make sure the bulbs are in good condition. Switch from regular windshield wipers to winter blades that can handle snow and ice. Swap your windshield wiper fluid a deicing fluid that won't crystallize in the bitter cold. These simple steps can make a huge difference!
Schedule Your Service at INFINITI of Naperville!
Schedule your service today, and our talented technicians will take care of the winter car maintenance that your vehicle needs. While you're at it, learn how to replace your INFINITI key fob so you never get caught in the cold. Contact us with any questions!