Impressive 2018 INFINITI QX30 Safety Features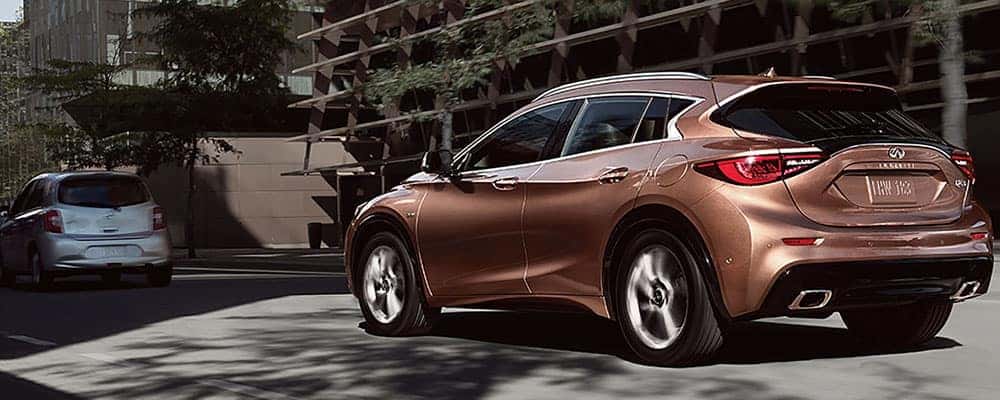 Picture yourself in a world where your vehicle protects you at the highest possible level. The 2018 INFINITI QX30 safety features do just that, and more. The safety technology inside the QX30 is designed to help control your vehicle, prevent accidents from happening, and protect you when they do.
Comprehensive Standards
INFINITI Advanced Airbag System

INFINITI's advanced, comprehensive airbag system joins together front and side airbags, side-impact airbags, front driver and passenger knee bags, and more.

Zone Body Construction

The QX30's high-strength vehicle construction with front and rear crumple zones and a reinforced passenger compartment create a protective bubble.

Systems for Heightened Control

Standard Traction Control and Vehicle Dynamic Stability Control, plus Electronic Brake Force Distribution keep the QX30 stable under challenging circumstances.

Security Features

Remote keyless entry and power windows help you safely enter and exit the vehicle. And, your QX30 is protected if there's an intrusion.
Modern Safety Technology
Choose to upgrade your QX30 with an array of available advanced safety technologies:

Blind Spot Warning – This sensor-based system can tell if there's another vehicle in your blind spot. It alerts you with a warning light and chime, so you can respond appropriately.
Forward Emergency Braking – This is another automated protective feature, and it monitors the vehicle in front of you and senses if you're getting way too close. The system will warn you, and if you don't react in time, it will automatically apply the brakes to attempt to avoid the collision.
Lane Departure Warning – This powerful technology also uses sensors, and it detects if you start to drift out of the lane you're driving in and provides warning signals.
Cross-Traffic Alert – This system utilizes the rearview camera and sensors to give you a visual of what's happening behind you. So, if your display shows obstacles in your path, you can quickly stop.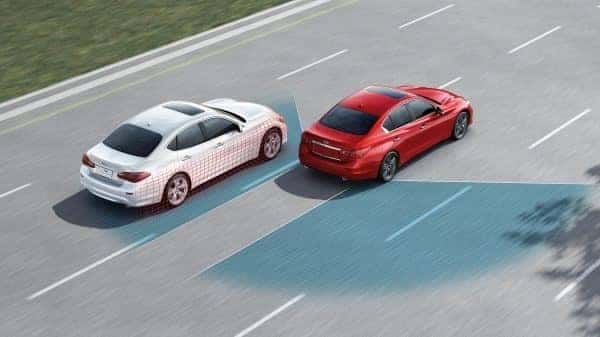 Test Drive the Impressive INFINITI QX30
There's so much to learn about the top-rated 2018 INFINITI QX30 safety features, so do yourself a favor and head down to INFINITI of Naperville and check out our inventory. We can answer all your questions and demonstrate all the QX30's safety capabilities. Contact us today to learn more!
More From INFINITI of Naperville
Schedule Service Learning how to prepare your car for winter in Aurora and Lisle can make all the difference in your car's condition. While road salt and freezing temperatures can leave your vehicle vulnerable to damage, the right winter car maintenance will keep your car in top condition all season long. What winter car care…

Winter can be a rough season for cars in Plainfield and Aurora. Between road salt buildup and treacherous ice patches, many drivers find themselves with a white-knuckled grip on the steering wheel all season long. But with the right winter driving tips, you'll drive with confidence through freezing temperatures and snowy roads like a pro….

Even if you take great care of your tires, one set might not be enough to handle the extreme weather conditions of the Aurora and Lisle areas. Between the sweltering heat of the summer and the icy cold conditions of winter, most all-season tires can't keep up with the harsh demands of the Chicago driver….